Welcome to the top 6 best speakers we
would recommend to you!
Please be aware that this is not an official list and is based off the opinions of us here at Kalkmann.
1. GPX HC221B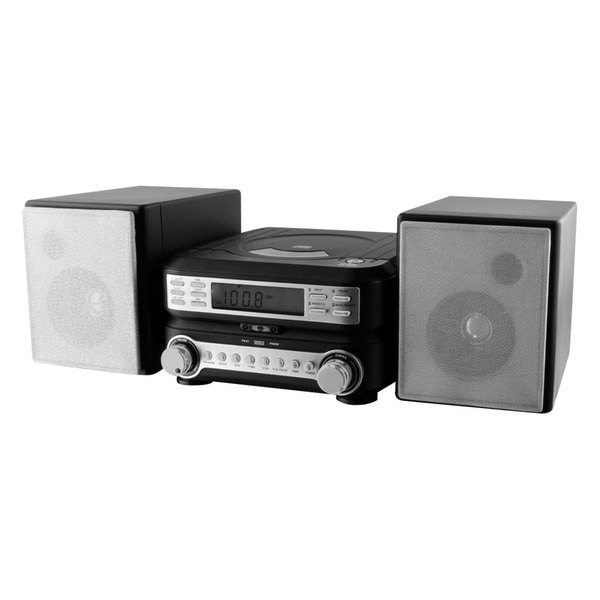 If all you need is the crème de la crème of stereo systems, then go for the GPX HC221B. It has a superbly functioning CD player that works well with most CD types. Its AM/FM radio tuner is, powerful as well, while its programmable system never disappoints. Moreover, it has two detachable speakers, each with a dynamic boost system that improves sound quality significantly. For added convenience, you get a battery-powered (Two AAA) remote control.
Pros:
AM/FM tuner

Full battery-powered remote control

High-performance CD player

Advanced dynamic boost technology
Cons:
2. iLive iHB603B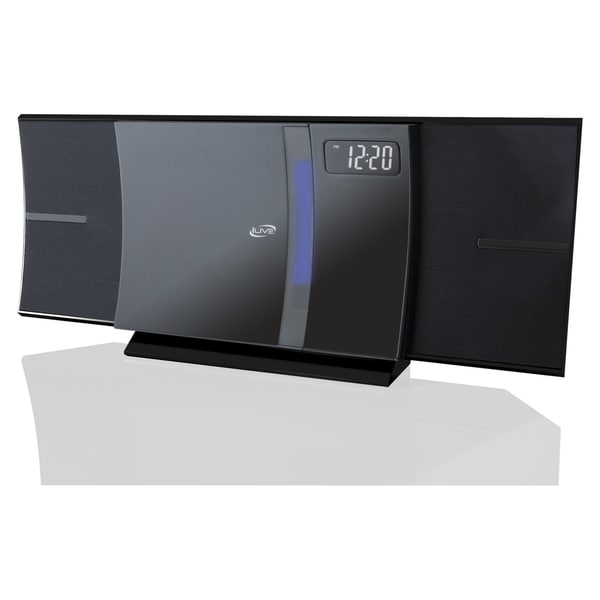 Space-efficient, iLive iHB603 is another top quality stereo system for entertaining. Featuring a premium wireless technology, it enables users to load and listen to their favorite music remotely. Its aesthetic dark themed body blends well in both contemporary and traditional homes, while its powerful FM radio and built-in CD player diversify how individuals entertain. Whether you enjoy listing to old classics backed up in CDs or streaming a podcast, this stereo system will benefit you.
Pros:
Colorful LED light effects

USB playback and charging port

Bluetooth 2.1 Technology

High-grade speakers

Aesthetic dark theme

Top of the range CD player
Cons:
Flimsy remote control

Fussy CD player  
3. Innovative Technology ITCDS-5000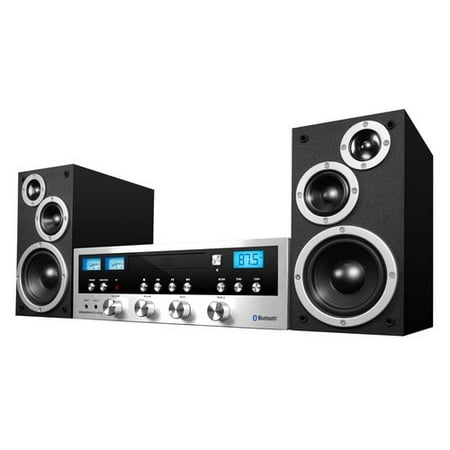 Innovative Technology ITCDS-5000 Classic is a retro-themed Bluetooth Stereo System with a CD player, FM Radio, Aux-In, and a Headphone Jack. It has a stylish black and silver theme, and a sturdy and well-constructed body that withstands abuse well. If you enjoy music and want a quality stereo system for everyday use, you will never regret buying an original today.
Pros:
Advanced VU speaker system

LED backlit display

Low powered 50-watt system

Dedicated control buttons

Powerful CD player

Responsive Bluetooth connectivity
Cons:
Poor mid-range driver

Flimsy remote control

Does not play MP3 files
4. Sharp 350-Watt All-In-One 
 With this model, you get a 350-Watt all-in-one Hi-Fi audio stereo sound system with a 5-Disc Multi-Play CD Changer, Cassette Deck, iPod-iPhone Dock, AM-FM Radio Tuner, Remote Control. Even though cheap, it is not only durable but also has a technologically advanced system that has improves how people entertain. Designed to generate quality sound while not cluttering the space, this is a compact stereo is one of the best models for home use. It advanced system delivers real value in all grounds. For instance, with an original model, you get a Hi-Fi-ready design with an S-Master amplifier that improves sound quality and projection. It also has premium-grade musical accessories that boost sound quality and a convenient plug and use technology that takes entertainment to the next level.
Pros:
High powered 350-watt system

Five CD changer

Powerful AM/FM radio

High-performance cassette deck

Built in S-Master amplifier

Powerful speaker system

Aesthetic design
Cons:
CD changer has a fussy random play

Relatively hard to setup
5. (Oddball) UE Boom 2 (Megaboom) 
The UE Boom 2 is a tour de force in the Bluetooth speaker scene. First off, it's one helluva good-looking device. Then, it keeps impressing with class-leading performance, waterproofing, and a unique set of features allowed by its free companion app. The UE Megaboom is nothing more than a bigger Boom 2, and that qualification alone makes it an easy recommendation off the cuff. But digging in a little deeper, this plus-sized variation sounds louder and fuller than its smaller next of kin. The larger form factor even allows for the battery life to stretch on for 20 hours, 25% longer than the Boom 2 is capable of.
Pros:
Super loud maximum volume 

Colourful Design

Good sound quality

Great android iOS app

Fully waterproof

Portable 
Cons:
Distorts slightly at high volumes

Expensive
 6. Sony MHCECL99BT 
Sony MHCECL99BT will bring your desired music to thumping life, thanks to the deep lows, high power kick drums, plus its clarity of sound. If you have used several brands with poor results, expect the best from this novel accessory. Setup is straightforward. Speakers are large and functional, while its technologically advanced components work in synergy to better the experience of listeners.
During your free time, access your old school CDs and power your playlist. You can also stream media from your favorite audio applications or listen to your favorite radio station with this one of a kind stereo system. Even though simple, it is durable. It also has a professionally crafted design and an optimized system that will meet all your needs.
Pros:
Very easy to setup

Professional grade sound system

Eye-catching design

Powerful CD player

USB playback

Advanced two-way speaker system

Cost effective
Cons:
Non-portable

Lacks a radio

No headphone jack
So there are our top 6 speakers we would recommend to you!
Leave a comment below and let us know what you think is the best speaker system.